When it comes to choosing new floors for your home or apartment, the choices can be daunting. Almost every kind of flooring has some kind of advantage over other styles, and taking all the details from a salesperson or contractor is a lot of work to do. Installing new flooring is an investment that can increase the value of your house, and should not be taken lightly.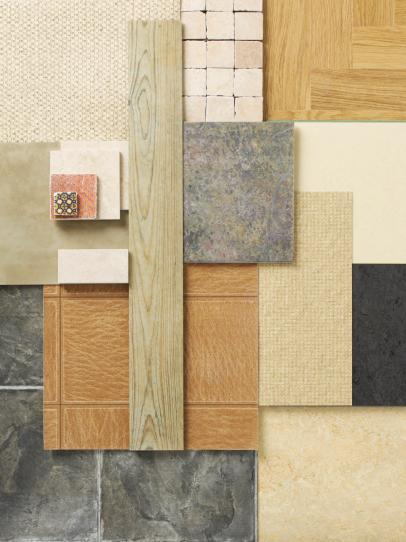 Here's a look at some of the most important stuff you need to know about when selecting floors.
1. Temperature
If you consider tile in your kitchen but your home tends to run on the cold side, vinyl tile is a great choice. It gives you the same look, except it's a lot warmer than the typical tile floor.
For bedrooms, the colour, design, and affordability of the carpet make it a top choice for many people to use while keeping their feet warm. It's not for everybody, but that being said-it 's incredibly comfortable in the bedroom.
Hardwood is another choice on the warmer side, while laminate appears to run a little colder. If the laminate floors are the way you are going and you are worried about their temperature, consider adding an insulating substance below them, such as cork or foam. This kind of underlay does a real job. Cork flooring is also being used in new homes, and while the look may not be for everyone, in our opinion it looks better than any other content. It's warm and gentle, and if you don't mind looking at it, you should probably check out some samples.
2. Look & Maintenance
The look of the floor you select is on the other side of the coin, one of the least ignored considerations that buyers consider when selecting flooring. There are other important factors to examine when selecting a presentation-based style that you might not think about when viewing samples.
Hardwood and laminate flooring are most people's first choice in terms of aesthetics, but be sure you do your homework before you make any decisions. First and foremost, you can decide how your flooring would look under the lighting of your house. Bring the flooring samples to your room before you instal to make sure it looks the same in the store as it does in your house. You should also remember what kind of maintenance your flooring requires. Laminate, for example, doesn't catch dust particles like carpets, so if you have allergies, it may be a good option for you. It's also easy to clean, and like hardwood, it'll last a long time if it's properly built and maintained.
3. Durability
Bathrooms and laundry rooms will also have different styles of flooring than kitchens or living rooms, and durability should be a key factor in the selection phase.
Laminate has many compressed layers which make it very durable, although it is not necessarily the most practical option for high-humidity areas such as the bathroom and kitchen. Moisture can see in and cause swelling, which is certainly something you don't want to see. On average, it will last 10-20 years, though hardwood can go much longer. Hardwood floor finishing is an option as it's all-natural, but when laminate flooring begins to wear it's pretty finished.
If longevity is your top priority, it could be vinyl that you're looking for. It is mostly used in commercial premises for reliability purposes and can last a long time with very little maintenance.
4. Ease of Installation
If you install the flooring yourself or employ a paid professional to do the job, not all flooring is just as easy to install. It's important to note that this would cost you more time and more money in the long run.
If you enjoy tackling do-it-yourself home improvement projects, we would suggest looking at laminate or vinyl boards. They come with a click-and-lock system that makes installation a bit easy. On the other hand, the three styles of flooring you definitely shouldn't try your hand at include tile, carpet, and hardwood. They each take some extra care that's worth paying a specialist to handle (unless you're very handy).
5. Cost
The actual cost of flooring itself is another factor to be mindful of while shopping for flooring, as prices can differ significantly. Laminate flooring usually ranges from $1 to $10 per square foot, while hardwood flooring can range from $10 to $20. It's not unimaginable to see hardwood coming in at ten times the price of laminate, so be mindful as you browse through samples that hardwood comes at a premium price point.
Vinyl flooring is more similar to price laminate flooring, varying from around $1 to $5 per square foot. Carpet is a bit more inexpensive than laminate, while the tile is a bit more costly, generally priced between $5 and $15 per square foot.
In terms of resale value, hardwood flooring is most likely to add value to your house. Laminate flooring is definitely not going to hurt, particularly if it's freshly installed or replaces something that would bring down the value of your houses, such as very bad carpeting or warped flooring. Putting some of the more inexpensive laminate options in the basement is a smart way to add value before the sale.
6. Size
Finally, before you make a decision, the size of the boards or tiles you end up choosing should be brought to your attention. When it comes to laminate or hardwood flooring, the longer the boards last, the more costly you can expect to pay. From a design point of view, they do look better in an open space, but try to consider length and width when calculating the price point.
Choosing flooring for your property is a major challenge, and it only gets harder as you install different materials in different spaces. Don't be afraid to look at hundreds of different samples while determining flooring. The more acquainted you are with the choices, the more likely you are to be pleased with your pick.
One of the most neglected items that buyers don't think about when choosing flooring is the temperature of the floors. Some styles of flooring naturally run cold, while others stay warm and stay your toes nice and toasty.